Article copied from Daily Leader Extra.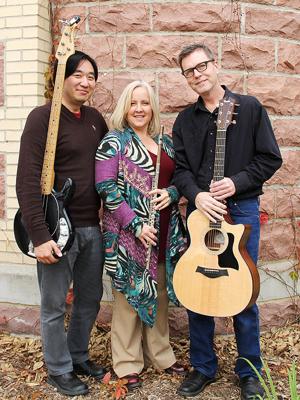 Photo by Jane Utecht
THREE IN CONCERT — Local musicians Peter Kim (left), Sandra Champion, and Chris Champion together make "3 in Concert." They will perform on Monday at 5:30 p.m. in the Tunheim Classroom Building auditorium. The concert is a kick-off for a new season of DSU Live.
It's time for a revival of sorts at Dakota State University, a revival of live musical performances with DSU Live.
The live shows at DSU have been downplayed in recent history, said Peter Kim, assistant professor of audio productions.
He is also in charge of the DSU Live program and hopes to start this year's performances off strong with a jazz/pop trio show called "3 in Concert."
This kick-off event is scheduled for Monday at 5:30 p.m. in the Tunheim Classroom Building Auditorium on the DSU campus. Happy hour snacks will be served beginning at 5 p.m.
DSU director of music programs Sandra Champion provides vocals and plays the flute; local musician Chris Champion is on guitar and vocals; Kim plays bass.
The musicians like a variety of styles. Kim likes fusion jazz and funk.
Chris Champion said, "I do a little bit of everything," giving an example from his standard Thursday night gig at Carnaval Brazilian Grill in Sioux Falls. "I play a little James Taylor, a little ZZ Top. I do whatever I feel like."
What the trio feels like doing with this concert is reviving the DSU Live program to increase interest and promote the program, said Kim.
They will kick-start the season with the faculty trio and hopefully make it bigger and bigger other performances, he said.
The next planned concert is on Dec. 1 in the TC Underground. Three rock bands will be playing, including Wolf Skin.